Fascias
Your roof Fascia is the long ,straight boards that run along the lower edge of the roof.
The roof Fascia is used to support the bottom row of tiles and carry the guttering.
We supply and install a high quality range of PVCu Fascia's and bargeboards enabling you to carry out the following:
. Replace degraded timber Fascia's
. Over cap existing sound Fascia's
. Use colour to co-ordinate with windows and doors
. Create individual and traditional roof styles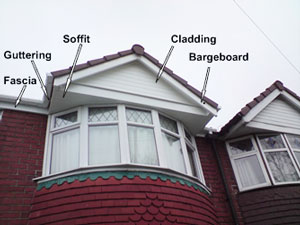 Soffits
Soffits support Fascia's and provide ventilation to the roof, without ventilation condensation can form and increase the risk of timber decay.
We can supply and install flat and fluted uPVC Soffits, along with cladding in a range of colours and various venting systems.