S. Douglas roofing specialise in flat roof systems. There are a number of options for your flat roof, we can offer solutions for you to choose from depending on your budget and construction of your property. In some cases we can also offer conversion from flat roofing to pitch roofing.
TORCH ON ROOFING/BUILT UP FLAT ROOFS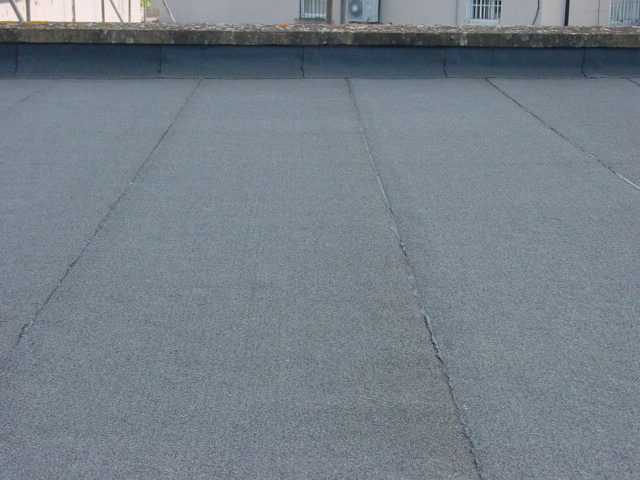 Torch On Roofing consists of two layers of Modified Bitumen Membrane. The underlay is 2mm thick and the top coat is 4.5 mm thick with a granular (Mineral) finish. Using this method the top surface of the base sheet and the bottom face of the cap sheet has a thermo fusible plastic surface. Both layers are joined together by heating the surface with a propane torch.

SINGLE PLY ROOFING SYSTEMS INCLUDES
- FIRESTONE EPDM RUBBER ROOFING SYSTEM
- REPHANOL FK
- ENVIROTECH EP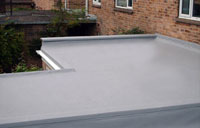 EPDM rubber membrane is designed for installation on flat and low slope commercial, industrial and residential roofing applications. Thanks to Firestone's proven seamless technology, this product provides a solution for even the most challenging roofs.
GRP FIBREGLASS
Glass Reinforced Plastic (Fibreglass) is extremely tough and durable . The main advantage with GRP is that it's seamless and joint less. If you choose to install a fibreglass roof then you can be guaranteed no leaks, no rotting, non slip and it's easy to clean and maintain.
. ACRYLIC BASED ROOFING SYSTEM
Cromapol is a one component, UV stable, solvent based multi-purpose roof coating membrane. It is manufactured with fibre reinforcement providing Waterproof Protection of: Flat and Pitched Roofs, Corrugated Asbestos, Roof lights, Flashings, Roofing Felt, Gutters, Slate, Concrete, Lead, Glasshouses, and metal.
We provide a range of cost effective systems and products for new build or refurbishment with guaranteed quality.